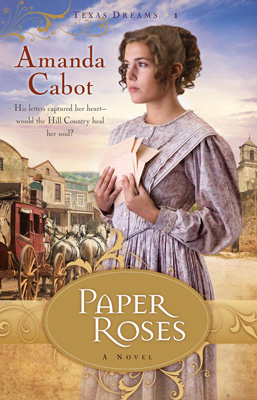 Revell Books
ISBN 978-08007-3324-7

Paper Roses:
The Story Behind the Story
I spent my early childhood in a small town in Texas, and even though it's been many years since I lived there, I still have many wonderful memories. Sitting with my parents in a big swing hung from a Spanish live oak. Visiting the Alamo. Picking bluebonnets when my grandmother came to visit. Digging in the sand on Padre Island. I could write a whole book about those memories. Maybe one day I will.

When I started plotting Paper Roses, there was no question but that it would be set in Texas. The only question was which part. And that was a dilemma, for there are so many regions in Texas, each with its own appeal. Since my maternal grandparents were immigrants from Germany (although they settled in Michigan, not Texas), I was drawn to the Hill Country with its large German population. But when I read about Castroville, a town founded by Alsatians, I knew I'd found the seed for my story.

I've had the good fortune of living in both France and Germany, and that made me conscious of the historical enmity between the two countries and the way Alsace (and later Lorraine) was traded back and forth, depending on which country won the war. Thinking about the problems changing nationalities would have caused for the people who lived there started the famous author's game of 'what if.' The fictional town of Ladreville with all its unrest is the result.

Once I got started thinking about Ladreville, I knew I couldn't stop with only Paper Roses. Instead, there are three books in the Texas Dreams series. All three stories take place in Ladreville, but they can be read in any order.