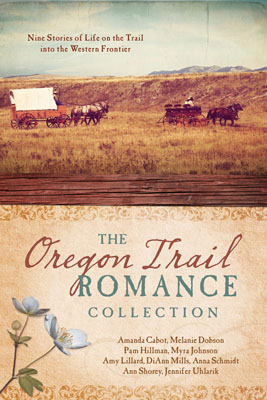 Barbour Books
ISBN 978-1-6305-8853-3

The Sagebrush Bride:
The Story Behind the Story

When my agent asked if I was interested in writing a story for The Oregon Trail Romance Collection, it took me less than a second to say "Yes." It didn't take much longer than that for me to decide my story would be set at Fort Laramie.

If you've been following my career, you know I fell in love with Fort Laramie the summer my husband and I moved to Cheyenne and that I wanted to tell the story of the people who lived at the crossroads of the major pioneer trails.

Summer of Promise, the first of the Westward Winds trilogy, is set at Fort Laramie during its final decades, when the fort had become a highly civilized place with boardwalks, birdbaths and women carrying parasols.

For The Sagebrush Bride, I traveled further back in history. During what I call "the wagon train years," Fort Laramie wasn't as developed, and the trees that now line the parade ground were only a dream, but the essence of the fort was there. It's that essence, the excitement of being on the edge of the frontier, that I've tried to capture in my story.

I hope you'll join me for a visit to one of the country's most intriguing forts. And, if you'd like to see pictures of some of locations in The Sagebrush Bride, you might enjoy my blog about Fort Laramie.

In honor of the release of The Oregon Trail Romance Collection, I blogged about various locations along the Oregon Trail in Wyoming as part of my Wednesday in Wyoming posts.

I began the month at Fort Laramie, not only because it was the setting for my story but also because it was the first major stop in Wyoming. Click here for Part 1.

Have you ever thought about how difficult it would have been to be a pioneer? Part 2 shows the terrain the pioneers had to cross ... on foot.

Part 3 introduces readers to Devil's Gap, one of the more beautiful -- and at times dangerous -- spots along the trail.

Walking next to a wagon would have been difficult enough, but some emigrants had an even more difficult time. Part 4 shows the reality of traveling by handcart rather than Conestoga wagon.

The final post, Part 5 takes readers to Independence Rock, one of the major landmarks along the Oregon Trail. Do you know why it was called Independence Rock? Click to find out.

I hope you'll enjoy each of the posts and the pictures I've chosen for them.