Revell Books
ISBN 978-08007-3460-2

Waiting for Spring: The Story Behind the Story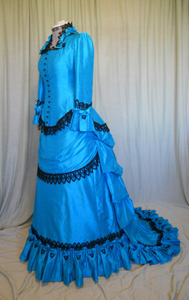 I should probably rename this page "The Story Behind the Cover." Although I've been extremely happy with all the covers Revell has given my books, this one was extra special. That's because when the artist couldn't find a dress that was just right for my heroine, Revell commissioned a custom gown.

I was thrilled! In addition to hiring a very talented designer, Sally Clark of Sally C Designs, Revell let me choose the design and the color. Sally's dresses were all beautiful, but the peacock blue really caught my eye. For those of you who care about such things, it's dupioni silk with Venice lace trim, and those are double box pleats around the hem and the cuffs.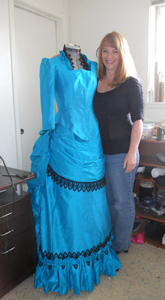 I thought you might enjoy seeing the full dress as well as Sally with it when it was partially finished. As you can tell, I'm delighted with both the dress and the cover.
For more information about the elements of the cover, you might enjoy my BLOG POST which gives you even more information about this very special (at least to me) cover.