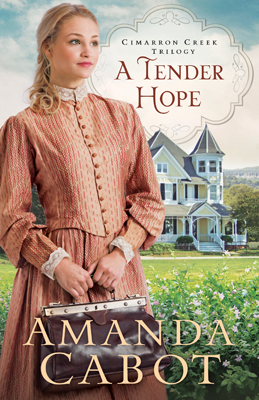 Revell Books
ISBN 978-0800727581

A Tender Hope: The Story Behind the Story

Blame it on my readers.

Ever since Paper Roses was published, readers have asked me what happened to Thea, the heroine's little sister. At the time, I had no answers, since I was busy working on other stories, but I didn't forget how easily Thea had caught readers' imagination and how intrigued they were by her. It took ten years, but at long last, here's Thea's story.

Thea's grown up now, and while I'd like to say her life has been as happy as her sister's, that's not the case. She's had more than her share of tragedy, which is why she's eager to leave Ladreville and build a new life as Cimarron Creek's midwife.

If you're wondering why I made her a midwife, it's because I knew that this story would have an abandoned infant in it and I wanted Thea to be the logical person to care for the baby, even if it was the last thing on Earth she wanted to do. Plus, if you've read A Borrowed Dream - and of course I hope you have - you know that the town, and in particular Lydia, needs a midwife.

And so Thea comes to Cimarron Creek, hoping to escape her past only to discover that it's harder to outrun the past than she ever dreamed possible.