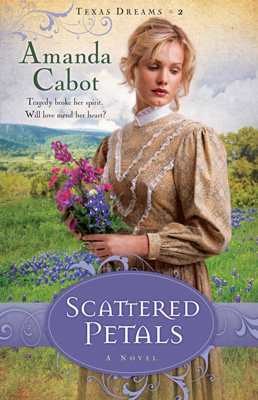 Revell Books
ISBN 978-08007-3325-4

Scattered Petals Reviews
Every author loves it when her books garner praise, and so I'm delighted to share the following with you.


Cabot weaves a powerful story of healing. Her characters are well thought out and readers will understand their frustrations.

A wonderful book by a gifted author.
Patsy Glans for RT BOOKReviews
Taking place in 1850s Ladreville, TX, this second entry in Cabot's new trilogy (after Paper Roses) is a quaint historical romance with Christian undertones and is sure to please Lori Wick fans. This tale stands on its own and can be enjoyed by new readers.
Nanci Milone Hill for Library Journal
Amanda Cabot delivers another enthralling tale set on the 1856 Texas frontier. The characters, beset by emotional and physical struggles, are pulled in multiple directions. The descriptive writing is excellent and easily visualized. The story line is twisted, fascinating to see unfold.
***** (5 stars)
Diane A. Brown for The Reader's Cove
Amanda Cabot surprised me! While the plot was not unusual, the prose and the character development were insightful and noteworthy. Scattered Petals was thoroughly engaging and proves Amanda's writing is getting better with each story she pens.
Relz Reviews