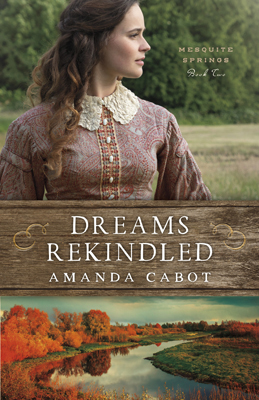 Revell Books
ISBN 978-08007-3536-4

Dreams Rekindled Reviews

Every author loves it when her books garner praise, and so I'm delighted to share the following with you.


Cabot continues her Mesquite Springs series, following Out of the Embers (2020) by bringing readers to 1856 Texas. ... A compelling tale for inspirational and romantic suspense fans.
Cynthia Hammell for Booklist
Dreams Rekindled is book two in her outstanding Mesquite Springs series and a wonderfully entertaining and inherently absorbing read from cover to cover.
Midwest Book Reviews
This is a lovely book to cozy up with. ... Cabot's writing is clear and balanced and a pleasurable escape from our modern world.
Denise F. McAllister for Western Writers of America
Readers will enjoy the easy pace of this series addition while waiting for the grand finale and what a finale it turns out to be!
Interviews and Reviews
Cabot does a fine job of building the tinderbox local politics of Mesquite Springs.
Publishers Weekly