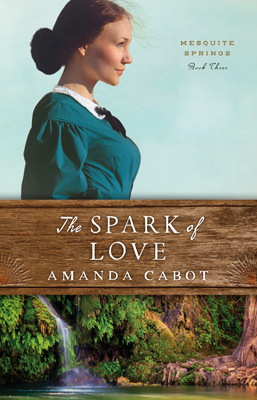 Revell Books
ISBN 978-08007-3537-1

The Spark of Love Reviews

Every author loves it when her books garner praise, and so I'm delighted to share the following with you.

Cabot takes readers to 1850s Texas in the intrigue-filled final installment of the Mesquite Springs series. The juicy schemes and blossoming romance will keep the pages turning.
Publishers Weekly
There is plenty of action and suspense, combined with believable characters. An appealing read for fans of westerns and Christian romantic suspense.
Cynthia Hammell for Booklist
A master of the genre, The Spark of Love will have a very special attraction and appeal for dedicated fans of historical Christian romance and history novels.
Midwest Book Review
I loved this awesome book! Whenever I see an Amanda Cabot book, I get excited. Her stories are so wonderful. I'm never disappointed.
Interviews & Reviews