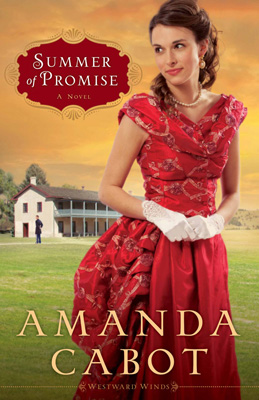 Revell Books
ISBN 978-08007-3459-6

Summer of Promise Reviews
Every author loves it when her books garner praise, and so I'm delighted to share the following with you.

In Cabot's Westward Winds series starter, readers will enjoy reading through the story's twists and turns. The characters are an interesting bunch; some of them are quirky, some are serious, but all have a story to share. With each book, Cabot writes something new and fresh.

**** (Compelling, A Page-Turner)
Patsy Glans for RT BOOKReviews
In this beautifully written story of love and redemption and following God's plans, the reader is invited into a world of adventure, love and forgiveness from past pain. I especially like that, though this story does have a love story threaded through it, that is not the most dominant point of the story. This makes the unfolding love story all the more believable and likable. The author spends much time with character development, looking at the heart and and thoughts of the characters instead of focusing on an outward love. So the love the reader sees developed is one that is based on a mutual journey into God's plans and and acceptance of His grace and forgiveness.
Abbie Riddle
With a perfect mix of romance, suspense and discovery of faith, Amanda Cabot brings us a bright new series featuring three sisters raised in the East. Sure to please any historical romance reader, this is a well written story with a great mix of characters and a fast-moving plot that includes a range of topics from family bonds and Army deserters to mischievous puppies. I am already looking forward to the next installment of Westward Winds.
Historical Novel Society
In Summer of Promise the author has a way of bringing the setting alive with rich period detail and compelling characters. Her laid back writing style is sure to delight fans and intrigue new readers. Cabot weaves suspense and mystery effortlessly with romance and history to create a novel that will be hard to put down and even harder to forget.
Deb's Book Bag
Amanda Cabot is an author who really knows how to bring historical fiction to life, with easy to relate to characters and a story line that grabbed my attention from the first page and kept me intrigued until the final sentence!
WV Stitcher
Amanda Cabot is a truly wonderful author. She has amazing skills to take rich, deep historical aspects and blend them beautifully with a strong, captivating plot line and characters that steal your heart. This is the start of her second series, and what an amazing start it is!
Reviews by Molly
Drama, betrayal, love, laughter, fear and faith are all skillfully woven together in Summer of Promise. This book will keep you guessing and turning pages, leaving chores unattended and it is so worth it. Ms. Cabot is an excellent writer and makes all her characters believable and you care deeply for them as she deftly unfolds the plot before us. Ms. Cabot has given us a nice beginning to a new series and I am already looking forward to the next one.
Vic's Media Room