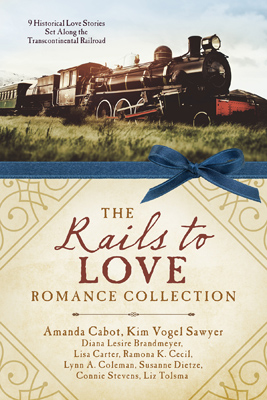 Barbour Books
ISBN 978-1634098649

The Rails to Love Romance Collection -- Out of Print

Sadly, this is another collection that's out of print. I've left links to the major online retailers, since you can sometimes find gently used copies of books, even when they're out of print.

Journey the Transcontinental Railroad along with nine unlikely couples who encounter all the dangers and disappointments of traveling the rails in the late 1800s. From sight-seeing excursions to transports toward new lives, from orphan trains to circus trains, can romances develop into blazing love in a world of cold, hard steel?

I'm delighted to have one of my stories in this novella collection for several reasons, including the fact that it gave me the opportunity to share part of my adopted hometown's history with you. If you've read my bio, you know that I now live in Cheyenne. What you may not know is the key role the Union Pacific Railroad has played in Cheyenne's history.

Cheyenne was founded in 1867 as an end-of-rails town during the Union Pacific's race to complete the first transcontinental railroad. Though many of the other end-of-rails towns died soon after the railroad crew moved on, Cheyenne was different. It grew into the largest city in Wyoming Territory and eventually became the territorial and then the state capital.

As the decades passed, it became obvious that the old and somewhat dilapidated train depot needed to be replaced. The result was the construction in 1886 of the finest depot in the West, a building that remains as one of Cheyenne's landmarks.

That building is one of my favorite spots in Cheyenne, so when I was invited to be part of a railroad-themed novella collection, I knew that rather than focus on the town's origins, my story should feature the building of the depot. That's how The Depot Bride came to be.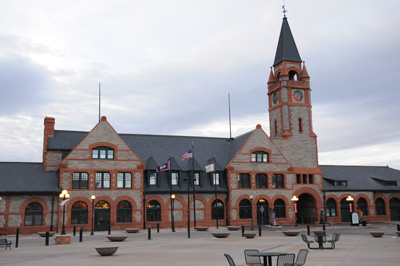 Here's a sneak peek into my story.

Can a cattle baron's daughter who's practically betrothed to another man and a struggling writer who fears he has nothing to offer her find happiness as they create a commemorative book to celebrate the creation of the new Union Pacific depot in Cheyenne?