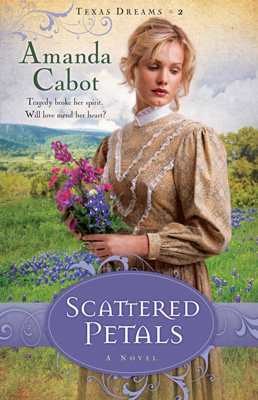 Revell Books
ISBN 978-08007-3325-4

Scattered Petals -- Available Now
Finalist -- 2011 Booksellers Best Award
Longing for adventure, Priscilla Morton leaves Boston and heads for Texas, never dreaming that the adventure she seeks will leave her badly injured and her parents dead. Priscilla is determined to rebuild her life and make a home for herself in the beautiful Hill Country, but the bandits who took her parents' lives also destroyed her hope for the future.

Ranch foreman Zachary Webster knows what the future holds for him, and it's not a woman like Priscilla. She deserves a cultured East Coast gentleman, not a cowboy who's haunted by memories of his mistakes. The best thing he can do is leave her alone.

When necessity draws them together, Priscilla and Zach begin to forge a life that, like the scattered petals of her childhood, is filled with promise. But then the past intrudes.

As you may have guessed from the summary, although there's a happy ending -- I guarantee one in each of my stories -- this book has its dark moments. It was, without a doubt, the most difficult book I've ever written, and yet it's also the book that has given me the greatest number of reader responses. I give thanks each day that Priscilla and Zach's stories touched readers' hearts.

If you'd like to know more, you might enjoy the blog that I wrote about it.