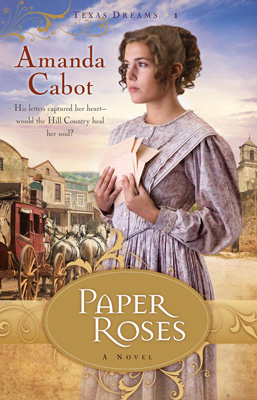 Revell Books
ISBN 978-08007-3324-7

Paper Roses -- Available Now
Finalist -- 2010 Booksellers Best Award
Finalist -- 2010 Carol Award
>
Socialite Sarah Dobbs never thought she'd be a mail-order bride. But, then, she never thought she'd be destitute, shunned and her young sister's only hope for a normal life. Drawn to Texas by the poetic letters she calls her paper roses, Sarah believes her secrets will be safe there. But the town is deeply divided and harbors its own secrets, including the identity of the person who murdered Sarah's fiance. There's no one she can trust, not Clay Canfield, and certainly not God. He's abandoned her.

Talented physician Clay Canfield has only one desire: to find the man who murdered his brother and exact vengeance. He'll never marry again, especially not a woman burdened with a child. As for faith, that's not for him, any more than it is for Sarah.

But God has plans for Sarah and Clay, plans that challenge everything they hold dear.