Revell Books
ISBN 978-08007-3460-2

Waiting for Spring -- Available Now
Almost a year ago, Charlotte had a baby and lost a husband. Hearing that a notorious robber believes she knows the location of a long lost treasure, she flees to Cheyenne and opens a dressmaker's shop to make a living. When wealthy cattle baron and political hopeful Barrett Landry enters her shop with his lovely fiancee, Charlotte's heart betrays her. If Barrett is to be a senator of the soon-to-be state of Wyoming, he must make a sensible match, and the young woman on his arm has all the right connections. Yet he can't shake the feeling that Charlotte is the woman who holds the key to his heart and his future.

Soon the past comes to call and Barrett's plans crumble around him. Will Charlotte and Barrett find the courage to look love in the face? Or will their fears blot out any chance for happiness?

This is the first book I've set in Cheyenne, and I have to admit that it was a lot of fun doing research and seeing how the city has changed in the past 130 years. If you'd like to learn a bit more, you might enjoy my "little-known bits of history" blog or an explanation of why I chose Cheyenne for the setting. And, for more background, here's a description of boom and bust, Wyoming style.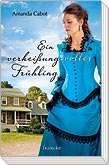 Waiting for Spring is also available in a German language version. Notice that the background was changed and that the heroine is facing the opposite direction.