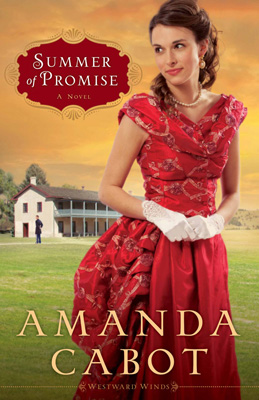 Revell Books
ISBN 978-08007-3459-6

Summer of Promise -- Available Now
Though she had planned to spend the summer in Vermont with her sweetheart, Abigail Harding cannot dismiss her concerns over her older sister. Charlotte's letters have been uncharacteristically melancholy, and her claims that nothing is wrong ring false, so Abigail heads west to Fort Laramie, Wyoming. The endless prairie seems monotonous, but when her stagecoach is attacked, Wyoming promises to be anything but boring. Luckily, the heroics of another passenger, Lieutenant Ethan Bowles, save the day.

When circumstances--and perhaps a bit of matchmaking--put Abigail and Ethan together, there's certainly attraction. But Abigail is planning to marry another man and return to life in Vermont as soon as she is finished attending to her sister. And Ethan loves his life in the Army and the wilds of Wyoming. When summer ends, will Abigail go back East? Or will she fall in love with this rugged land herself?

To learn more about the book (and about me), you may enjoy this interview from Christianbook.com.

And if you're curious about Puddles, the puppy, he was inspired by a real dog. Click here for Puddles' story.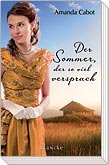 Summer of Promise is also available in a German language version. Notice that both the background and the color of Abigail's dress were changed for the different market.